Our thanks to Jenny Leadbetter from The Rotary Club of Gawler who spoke at our Club meeting recently about Shelterbags.
In a world filled with challenges, the Rotary Club of Gawler Light is taking a proactive step to address the pressing issue of homelessness. Through their innovative Shelterbags for the Homeless program, they are making a real difference in the lives of those who sleep rough in our community.
Homelessness is a growing concern, with an increasing number of people forced to endure the harsh conditions of winter without proper shelter. The Shelterbags offer a practical solution. These lightweight, waterproof, and vented swags come complete with a mattress and padded hood, ensuring both comfort and protection from the elements.
One of the remarkable features of Shelterbags is their portability. Rolled up to backpack size and weight, they are easy to carry. Additionally, individuals can personalise their Shelterbag with a sleeping bag or other bedding to suit seasonal conditions.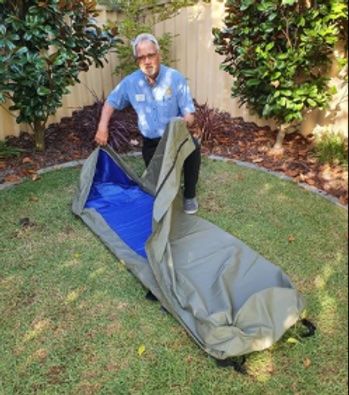 Rotary Club of Gawler Light is working tirelessly to make Shelterbags accessible to those who need them. The cost of each Shelterbag is currently $85, which includes shipping. By importing them in bulk through the Rotary Club of Terrigal, they can reach even more people in need.
Distribution is a key component of this initiative, and Rotary Club of Gawler Light has a Memorandum of Understanding with Rotary Club of Terrigal to supply bags. These bags are then further distributed to other Rotary clubs and organizations as required.
The next container order is scheduled for October 2023, ensuring that Shelterbags are ready to provide comfort and dignity for those experiencing homelessness during the harsh winter of 2024. The Rotary Club of Gawler Light, in collaboration with partner clubs, plans to purchase around 300 bags for distribution in District 9510.
If you want to be part of this impactful initiative or learn more about the Shelterbags for the Homeless program, please contact secretary@gawlerlightrotary.org. Join us in making a difference in the lives of those who need it most and help us provide shelter, warmth, and dignity to those experiencing homelessness in our community.